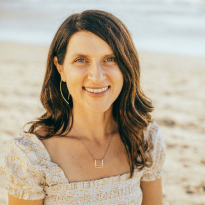 Book an Appointment
Jelena Bodinet is a registered Associate Marriage and Family Therapist who holds an M.A. in Couple and Family Therapy from Alliant International University. Jelena was also awarded an M.A. in Peace Studies from the University of San Diego and has been a professor of Peace Studies, Gender Studies, Futures Studies, and Conflict Resolution and Mediation. An empathetic therapist, Jelena uses a trauma-informed lens within her holistic and integrative approach to counseling.
The desire to create a healthier, more balanced, and more peaceful world is what drives my every action. From yoga, to meditation, to power-walking with friends and loved ones, I believe that every step taken with intent and purpose is a step that moves us, together, toward a more preferable future. Through my inclusive work with and among diverse populations—age, ethnicity, and otherwise—I have formed the understanding that at our very core, at our very best, we are all yearning for such a future full of harmony and balance. I will work closely with you as you strive to attain your own personal sense of peace by helping you unlock the wisdom and knowledge that you already possess, acquired along the journey of countless steps that has made you, you.
I believe that the body-mind-spirit connection is fundamental to the process of finding the way home to ourselves, and I strive to incorporate it into my personal life as well as my work as a therapist. I have a strong background in mindful practices, both in my personal yoga and meditation practice and my experience as a Mindfulness-Based Stress Reduction teacher. I utilize several modalities in my work, including: Acceptance and Commitment Therapy; Mindfulness-Based Cognitive Behavioral Therapy; and Narrative Therapy. When working with couples I also employ Emotionally Focused Therapy and Narrative Couples Therapy.