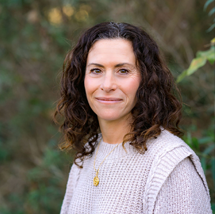 Book an Appointment
Comfort. Safety. Acceptance.
When you walk through the door of your therapist's office, you deserve to feel comfortable, safe, and accepted. It should be a judgement-free zone. A place for healing.
That's the kind of environment I strive to offer to each of my patients. I work with adolescents, couples, and families who are experiencing relational issues, stress, depression, anxiety, grief, or other transitions in life. As your therapist, I will invest the time to get to know you, understand your values, and your vision for change. We will embark on this journey together and take a holistic look at the short-term changes that need to occur immediately to relieve your distress as well as the longer term systematic changes that can provide a lasting impact.
As a Marriage and Family Therapist I am trained to look at the important relationships in our lives and understand how they influence and guide us. The power of relationships should never be underestimated. That's why I apply relational lens to each of my patient's experiences and draw on a collection of theoretical approaches all rooted in collaborative, client-centered care.
Choosing a therapist is a very personal decision.If you would like to learn more about my work, or to schedule an appointment, please contact me. I offer a free phone consultation so that you can get a sense of who I am before our first appointment.
I look forward to connecting with you