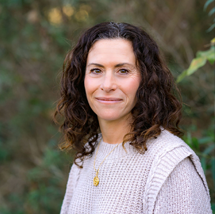 Book an Appointment
Comfort. Safety. Acceptance.
I invite you to think about your biggest challenge or deepest pain. Now think about the way you respond. Notice whether judgment, self-criticism, or shame shows up. Now consider how you would respond if you heard about the same struggle from a friend, child, or sibling. The likelihood is that your response would be different: more compassionate and more accepting. This way of treating ourselves less kindly is a learned survival strategy—and just as it was learned, long ago, it can also be unlearned.
I work with each client using an individualized approach aimed at understanding the uniqueness of their circumstances and who they are. I hold a Bachelor of Science in Psychology from the University of Victoria, in beautiful British Columbia, Canada, and a Master of Arts in Marital Family Therapy from the University of San Diego. I also hold a Master's in Public Administration from New York University and spent 10 years in non-profit and health care management.
I have broad experience working with individuals, couples, and families. I worked at UC San Diego's Internal Medicine Department as a Collaborative Care Therapist providing comprehensive treatment for patients in an integrated primary care setting. I also worked as a research therapist in the Palliative Care Department on a Dignity Therapy study, where I provided brief psychotherapy for patients receiving hospice or palliative care by reflecting on their life story and collaborating with them to create a legacy document of their lives.
I am trained as a Somatic Experiencing® Practitioner, which means that in our sessions, we will learn to notice the way our bodies respond to threats or stress and develop tools to deactivate these responses and enable more effective problem-solving and fulfilling relationships. My approach also combines more traditional psychotherapy models, including psychodynamic and attachment-based theories.
I also love to work with parents. I am trained as a Positive Discipline® Educator and have completed Neufeld Institute Intensive I: Making Sense of Kids.
And I find working with couples incredibly meaningful. I incorporate various modalities into this work, including attachment-based approaches, Emotionally Focused Therapy and IMAGO Therapy.
My clients share that our sessions lead them to experience a renewed sense of comfort, and a greater capacity for managing the next difficult experience or event. When we learn to repurpose energy that we once used to push down our pain, we can reclaim our vitality and fulfill our deepest needs.